NGO-CEDAW routinely uses Khmer-language radio programs both to disseminate information about CEDAW and women's rights and to invite the public to participate in discussions of human rights on live call-in programs.  Recordings of past shows are available in our library.
For the 16 Days Campaign in November-December 2017, NGO-CEDAW created radio and streaming videos according to the following schedule.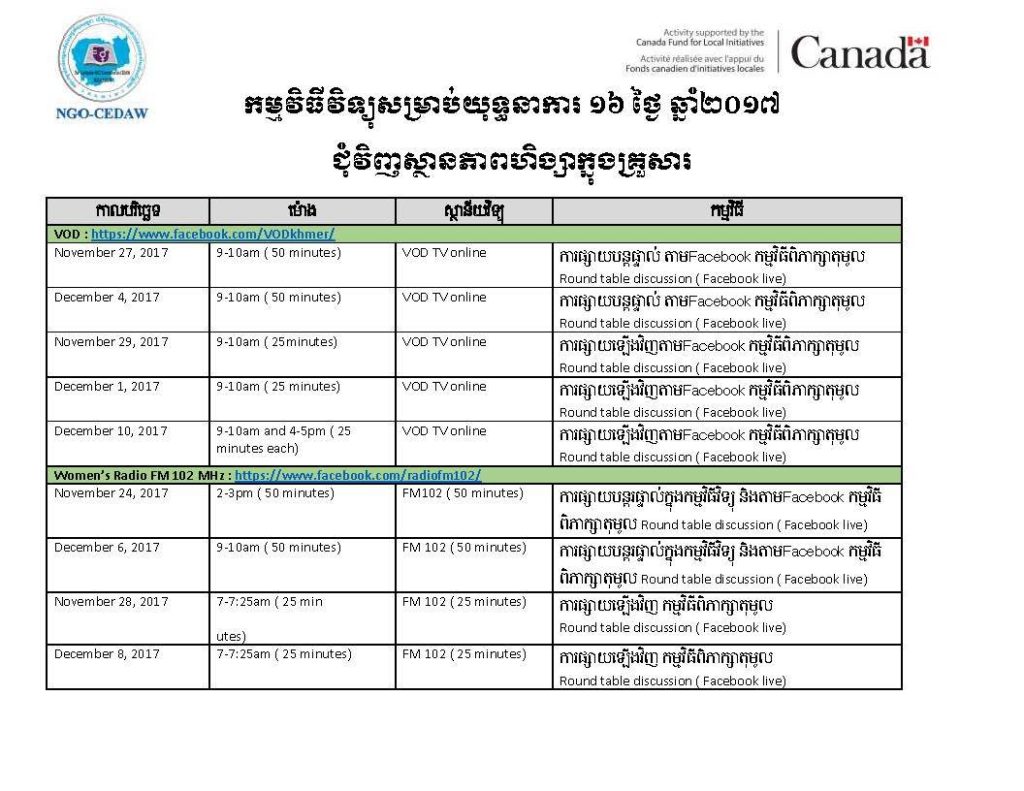 For 8 March 2017, we created 2 radio shows through the Dignity Project.
NGO-CEDAW created one show in partnership with VOD/CCIM, Heinrigh Boell Foundation, and LICADHO.   A video of this roundtable discussion on domestic violence can be viewed here: VOD hotnews recording in Khmer.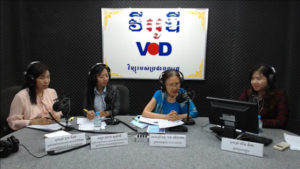 NGO-CEDAW's Dignity Project created a second radio talk show funded by Heinrich Boell Foundation. Speakers include members CHEC and WMC.  (Khmer language programming.) You can listen to the show here.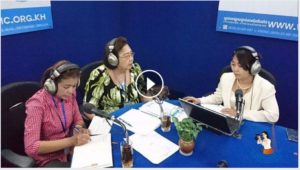 ស្តាប់ការផ្សាយកម្មវិធីពិសេស អបអរសាទ ថ្ងៃ៨មីនា ខួបលើកទី១០៦ ឆ្នាំ២០១៧
ប្រធានបទ: ច្បាប់ប្រឆាំងអំពើហិង្សា និង ការលែងលះ
វាគ្មិន: អ្នកស្រី យឹម សុទ្ធី ប្រធានសមាគមន៍ការងារតាមផ្ទះ
លោកស្រី បណ្ឌិត កាសែម កុលណារី នាយិកា អង្គការ Chec