NGO-CEDAW organizes an annual conference for its membership at the end of each year. This is an opportunity to elect steering committee and sub-committee members, to attend technical training sessions, to exchange ideas and information, and to plan for the upcoming year.
In 2016, members met in Kampong Speu Province and learned about the election process from a youth activist who had studied in the US.  They also discussed about how rape cases are treated by authorities in the US and Cambodia.
In 2015,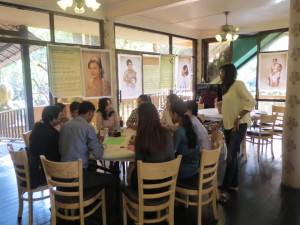 members met in Kandal Province and attended sessions on women's economic empowerment.  Members also were able to view a display of the art from the Dignity Project, which is part of an advocacy campaign to amend the laws (Domestic Violence Law and Criminal Code) which directly affect the safety of women experiencing domestic violence.  Members renewed their commitment to CEDAW monitoring and agreed to begin the process of learning how to gather data on women's rights as a core activity of their organizations.