NGO-CEDAW is holding an annual debate for university students.  Our first debate was held on 2 December 2018 at Paññāsāstra University in Phnom Penh.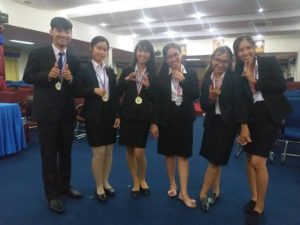 Six students debated the topic of whether traditional Khmer values contributed to gender-based violence.  NGO-CEDAW also premiered two short films funded by Canada and created by Cambodian youth:  Invisible Chains and Arranged Marriage.  These films can bee seen on NGO-CEDAW's YouTube channel.
Approximately 250 people attended the event, which was part of the 16 Days Campaign.
Each year, students apply to participate in the program.  They will first attend workshops on women's rights under Cambodian and international law, covering CEDAW gender equality and gender-based violence.  Finalists are chosen by a judging panel after a mock debate.  Successful participants will then debate a specific topic on women's rights at a public event to be promoted on social media.  Debaters can compete for scholarships.